2020 was a tumultuous year for the UK property market with lockdown initially bringing house sales to a grinding halt before new legislation such as the stamp duty holiday caused it to soar again.
As we head into 2021 with the country yet again in a strict lockdown and restrictions across various sectors, it's no surprise that people are wondering what to expect when it comes to property investment. We asked our Quadrin experts: What is the outlook for property investment heading into the new year?
Here's what they had to say…
"The impact of the stamp duty holiday on the UK property market has been rapid and sustained. The reform was announced at a time when the property market was reeling from the sudden drop in transactions as a result of the COVID-19 lockdown measures. 
Following the introduction of the tax break, buyers and sellers flocked to the market, leading to an 18-year-high in the rate of house price growth and a consequent surge in house prices. Prospective buyers across England and Northern Ireland, keen to take advantage of the comparative discounts on offer, have returned to the market in droves. 
This policy's success in incentivising property investment lies not only in the potential savings for homebuyers of up to £15,000, but also in the fact that all buyers can take advantage; be them established landlords or first-time-buyers.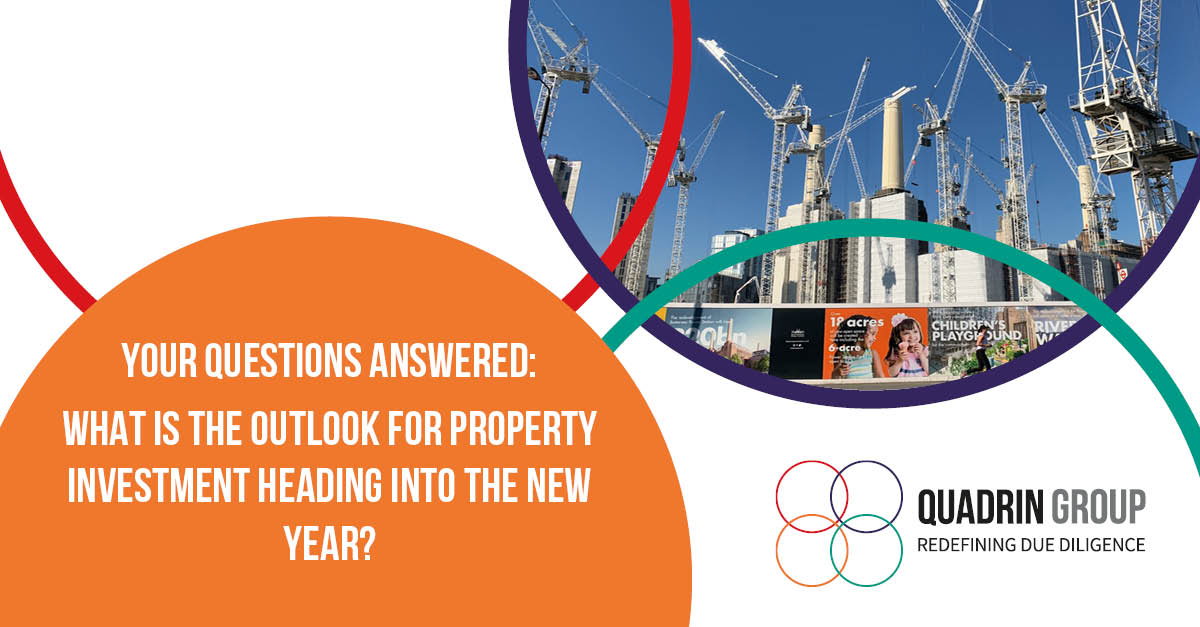 However as the end of the holiday nears and we again face lock down over most parts of the UK market, agents report that interest from investors in BTL investments has all but disappeared. Investment property that is on the market is undergoing rapid and sustained price decreases as the cost of money and the supply of money increases, eroding returns and values, as is predicted across a number of asset classes.
Additionally, the perfect storm is accentuated by an alteration in regulations for BTL assets and licensing in most Boroughs creating increased regulatory hurdles, increased costs of compliance and an erosion in real returns as regulators have sought to ease the burden on renters.
The working-from-home revolution, a consequence of social distancing measures, has massively altered the BTL market's growth. London, previously renowned worldwide as a respected BTL locale due to the high rental income and capital growth on offer, is now seeing an exodus of newly homebound professionals as they seek larger properties outside the city. LonRes recently revealed that the overall number of new lets in London has been down 25% every month since June when compared to 2019.
In a bid to attract new tenants, London landlords have been forced to lower their rental prices by up to 20%. Whilst supply and demand are both down, the supply reduction has not been on par with the demand reduction and the rentals have in real terms, fallen significantly. Correspondingly there has been a significant shift upwards in demand for outer London suburban locations where there are larger homes and land allotments on offer.
There are many alternative investment options for bricks and mortar investors and I consider that alternative options have the possibility of increased returns and decreased risk over time. This sentiment is matched by the market." 
Hopefully this gives you some more insight into what the property investment market can expect as we start 2021. If you've got a question you'd like one of our Quadrin experts to answer, be sure to get in touch.